Techno ride / Job board
In partnership with UIMM
TECHNO RIDE AROUND TECHNOLOGY INDUSTRIES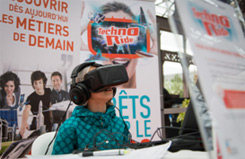 Techno Ride is a virtual reality experience developed in 2015 using cutting edge technology: the Oculus Rift, a virtual reality headset allowing you to totally immerse yourself in a 360° virtual world. This experience takes you on an emotionally rich journey to discover the technology industry's most innovative creations.
This visual animation guides you through the world of technology industries. Each player places the headset over their eyes. They dive into a workshop where a guide offers to show them round to discover the different design and manufacturing phases, with the different men and women involved. Throughout this visit, the player is invited to participate in different experiences within the various technology industry sectors. They get to drive a sports car, fly a fighter plane or race through the water in speedboat.
More info:
www.les-industries-technologiques.fr
Why is Techno Ride at this trade fair?
"Fun, techie and interactive, this activity appeals to the personalities and interests of young people (video games, computer technology, 3D, etc.) who are our key target. We want to advertise the jobs our industry has to offer; we'd like to introduce pupils and students to these jobs and provide them with information. This tool is an ideal way of making contact with them and exchanging views of the industrial world and the prejudices often surrounding it", explains Etienne Boyer, president of UIMM Doubs.
JOB BOARD
The national recruitment platform on the "les-industries-technologiques.fr" website is a tool providing companies in this sector with more visibility. It enables them to post their job offers and streamline recruitment thanks to a database of CVs with 130,000 visitors per month and 16,000 referenced CVs. This job board is a time-saver in bringing together the skills required by recruiters and the qualified and available work force. It is an efficient tool for industrials; an on-hand network sensitive to their needs, plus a whole range of services. The offers posted on this site can be automatically posted on other partner job offer sites such as: Leboncoin.fr, Pôle Emploi, Indeed, Jobingenieur, Jobtech.fr, Technicien.com, etc.
More info: www.les-industries-technologiques.fr
Why present the Job Board?
"It is a very attractive and efficient tool for Human Resources that is easy to use with simplified procedures. It provides a large CV database enabling recruiters to find the right profile to meet their expectations. It is interactive and as easy to use as any other online IT tool. As a national tool for the sector, it is important for us make sure Micronora companies know about it", emphasises Etienne Boyer, president of UIMM Doubs.