"Microns & Nano d'Or":
innovation rewarded
The Microns & Nano d'Or,
regarded by professionals
as the indisputable benchmark of innovation,
rewards microtechnological and nanotechnological innovations
that are show-cased at the fair for the first time.
Nanotechnology has considerable potential for development and application, so Micronora has decided to encourage companies in this sector to enter the competition which until now have been reserved for microtechnology.
They will be in the "products integrating nanotechnology solutions" category.
The winner will receive a Nano d'Or.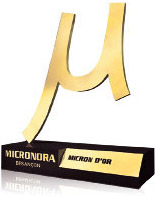 Six categories
Microtechnical components
Devices and sub-assemblies integrating microtechnical components
Microtechnical production tools and instruments (stamping, moulding and forming, control instruments, etc.)
Machine tools and microtechnical production machinery, automated systems, fittings
Micro and nano-system demonstrators and prototypes reserved for laboratories, technical centres and design offices
Products integrating nanotechnology solutions
See the winners 2016
See the winners of previous trade fairs